Winders

Winders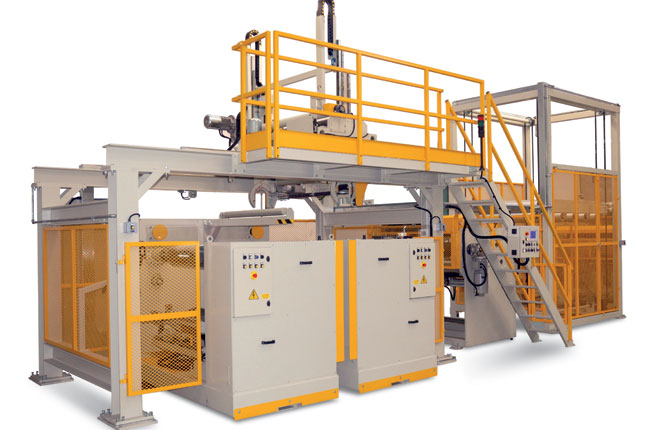 AUTOMATIC WINDERS FOR FLAT FOIL EXTRUSION LINES IN PET, PS, PP AND OTHER THERMOPLASTICS
Cantilevered type automatic winders for flat foil extrusion lines in PET, PS, PP and other thermoplastics High-level automation winders for the winding up of extruded or co-extruded float thermoplastic foil for subsequently thermoforming. Being equipped with high-tech differential shafts, winders of the "AW" series are specifi cally intended for building up one or more reels on the same axle ensuring constant winding tension and reel compactness all along its entire width.
End-reel transverse cut and foil taking up on the new winding shaft are automatically executed in a totally guarded machine area, thus ensuring full safety of the operating personnel.
Automatic diameter detection (3" – 6" or 8" as a standard) of the installed shaft is also provided, with consequent automatic selfconfi guration of optimized process parameters and errors minimization.
Jumbo reels can be built up on special carriages suitable for their direct conveying to the thermoforming equipment, or alternatively
on cantilever-type shafts adequately supported by tailstocks. In this case reel extraction, weighing and removal is obtained by motor- driven shuttle-cars.
The shuttle-car solution facilitates handling of large-sized reels and permits easy lifting by fork trucks or interfacing with reel sorting automated systems.
Automation is SIEMENS PLC S7-300 based with touch-screen type Operator Panel, complete with communication network for extrusion line interfacing and central remote assistance. Accuracy in software development has enhanced control on winding tension through careful electronic compensation of static and dynamic frictions.
The technological strategies adopted in mechanical design combined with their extremely sturdy structure, have rendered "AW" winders the ideal solution for medium and large-sized reels, since they are suitable for winding reels up to 2,000mm in diameter and 8,000kgs in weight. At design stage, attention has been focused upon the basic aspect of operator safety and health. The target has been reached through the installation of accurate mechanical and electronic safety systems combined with elevated automation in machine operation.
Side trimmers and central cutters for foil separation into two or more webs are available. The company M.T.G. can count upon business partnership with worldly acknowledged leading manufacturers to offer top-quality cutting equipment, prolonged service life of cutting blades and rapidity of blade replacement. The employ of patented safeguards maximize operator protection and drastically reduce injuries and accidents in a potentially hazardous zone of the extrusion line.
Questions?
+39 035 894376
+39 035 894350
info@tecnowinding.com
Via Basella, 849 – 24059 URGNANO (BG) | ITALY
Contact Us

Tecnowinding MTG Group